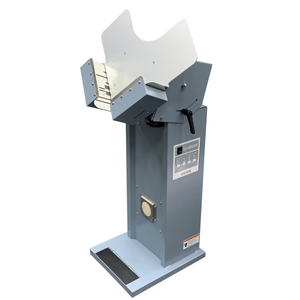 The UJ-600AS Air Jogger is the perfect addition to any print shop. Jog uneven paper stacks with rapid speed and reduce static between the sheets before loading them into a post press device. Jogging helps align the edges of the sheets prior to finishing and prevent errors such as miss or double feeding.
The UJ-600AS is portable, compact in size, and can be placed near a digital press or finishing equipment. Load sheets up to 13" x 19" in size and select from one of the settings such as air only, jogger only, reset timer operation, and time interval difference which offers continuous jogging for a preset duration after the air has stopped. The device features a hands-free operation with an automatic start and stop function. The foot pedal can also be used to start and stop operation.
The UJ-600AS features a large air blower to efficiently reduce static along with adjustable air strength and volume. It's a must-have for any digital printer!
Features
Reduces static and aligns the edges of the sheets prior to finishing
User-friendly control panel with adjustable air strength and volume
Hands-free operation with automatic start/stop
Portable and compact