Shop our selection of new, used and open box equipment for your print finishing needs.
Used and open box items have been reconditioned and inspected by our service team. All products are covered under warranty.
Shipping available only within the contiguous US.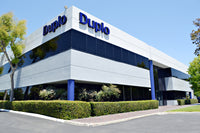 About Us
Established in 1979, Duplo USA Corporation is the leading provider of innovative print finishing solutions for the graphic arts industry. Our highly efficient, modular products streamline post-press production for digital color and offset applications and perform with incredible precision that is second to none. Duplo continously strives to bring the latest in finishing automation to market and introduced the first all-in-one slitter/cutter/creaser, air suction collating and bookletmaking system, and tabletop folder as well as the compact and sensory-driven raised spot UV coater. 
Visit us at www.duplousa.com for the latest in finishing and print embellishment solutions.